Draco Bottle Release

Bottle Release
As we celebrate two months of opening, we're super excited to announce our very first bottle release on Sunday, August 27.
Head Brewer Timmy Johnson has created a fruited Berliner called Draco, a kettle sour with dragon fruit and passion fruit. It's tart, it's pink, and it's delicious. The beer is available in 750ml bottles with artwork designed by Brent Schoonover.
WHAT DO I NEED TO KNOW?
We will open our doors at 11 o'clock am for bottle purchasing only.
Limit 2 bottles per person.
Bottles are $18 each. Card or cash.
We will re-open our doors at noon for regular taproom service with Draco available on tap.
Draco merchandise will also be available for purchase beginning at noon.
Member society members will have 2 bottles held and available for purchase for up to 30 days following the release.
ANY OTHER QUESTIONS?
What kind of merch will you have?
We will have Draco T-shirts, zip-up hoodies, and a limited run of poster prints.
Can I hang out in the taproom after I purchase my bottles?
We'll ask that you kindly exit the taproom after purchasing bottles until we open for regular taproom business at noon.
What if I really want a bottle but I'm out of town?
If there are any unclaimed member bottles following the 30 days, we will announce via social media when and if any bottles are available for purchase.
That dragon artwork is rad! Where can I see more of Brent Schoonover's work?
Thanks and we agree. You can see more of Brent's artwork on his website: brentschoonover.com.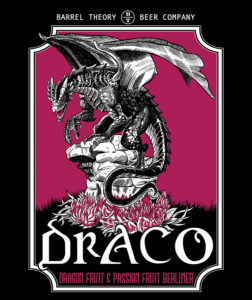 View All News