Threat Level Midnight Bottle Release

Bottle Release
All the details you need to know on the latest bottle release from Barrel Theory.
On Saturday, May 26th, head brewer Timmy Johnson and the team at Barrel Theory will release Threat Level Midnight, an Imperial Stout with maple, coffee, & vanilla.
What Do I need to know?
Door opens at 10:00am for bottle purchasing
Limit 2 bottles per person
Bottles are $25, cash only, no discounts
Current Member Society members will have their 2 bottles held and available for purchase in the taproom during regular taproom hours beginning at noon on 5/26 and up to 30 days following the release (member discount will be applied and members may pay using card or cash)
Threat Level Midnight will be on draft in the taproom and available in 4 & 10 oz pours when we open the doors at noon for the day on May 26
Threat Level Midnight stemmed glassware will also be available for purchase for $10 each, no limit, cash only, no discounts
Any other questions?
How many bottles for the public are there?
Approximately 350
How much will be available on tap in the taproom?
3 half barrels
How many glasses are there?
About 500
What's the ABV?
10.7%
What if I can't make the release and I'm not a member?
If there are any unclaimed member bottles following the 30 days, we will let everyone know via social media.
Can I buy Crowlers, tap beer, or other merch during the 10am bottle release?
No, you may only purchase TLM bottles and glassware during this time.
Can I hang out in the taproom after I purchase?
No, once you make your purchase, you must leave the taproom until we open at noon for regular business.
Will you fill Crowlers of TLM?
No, just these 750ml bottles.
What does the TLM stemmed glass look like?
This: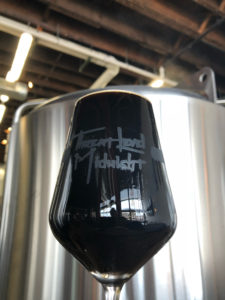 View All News