Minnesota Niice at Lawrence Beer Co.

Colab · Events
A collaboration for a cause…
You've seen our logos, you drink beer from glassware featuring our logos, and you even wear our logos. The man who created those designs is Jesse Green. Jesse was an avid outdoor enthusiast and all around great human originally from Woodbury, Minnesota and residing in Boulder, Colorado (and even better, traveling to many destinations). Jesse's life was cut short due to a motor vehicle accident while commuting via bicycle in Boulder. To honor him and all the passions in his life, Barrel Theory and Lawrence Beer Co. have teamed up to brew a Double IPA in Jesse's honor.
On Saturday, May 19th, Minnesota Niice DIPA will be released at Lawrence Beer Co. with proceeds from the beer and event benefiting PeopleForBikes.org in memory of Jesse who touched the lives of all three organizations. Jesse liked nothing more than getting on a bike and spending time with friends and we know that this event and fundraiser would be something he's proud of.
If you're looking for an excuse for a road trip, then go for it–life is short and precious. Otherwise, donate to PeopleForBikes.org in Jesse's name if you feel so inclined, but most importantly, be present, and enjoy the company of your loved ones.
Facebook event with details can be found here: https://www.facebook.com/events/1799176800385221/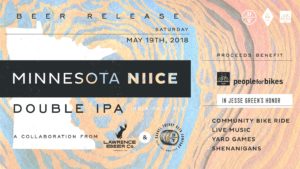 View All News